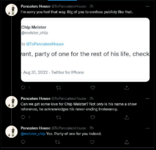 Reminder that Danny Ross claimed that he had insider information into (pedophile) Anthony Cumia's molestation of underage girls. Danny attempted to monetize his knowledge, he tried to get people to subscribe to his faggot podcast for the details.
Danny Ross tried to make money off the sexual trauma of children.
Kill yourself, you fucking rat kike.
Danny Ross is a pedophile.